Counting bears provide endless opportunities for open-ended play, and the internet is full of free printable activities to encourage math and learning skills. Plus, my toddler is enthralled with these little bears, which makes it easy for me to sneak in a tot school lesson throughout the day!
Rainbow Counting Bears are a STEM toy for toddlers and early childhood education learning tool. (Plus, they are compatible with Montessori learning environments.) Counting bears help children:
Develop fine motor skills and coordination
Identify and sort colors
Learn and sort sizes
Understand taking turns and sharing
Teach counting and quantity concepts
Create and follow patterns
Practice mathematical skills such as addition and subtraction
Learn basic graphing
Amazon sells a various kits that may also include sorting cups, different sized bears, scooping tongs, and dice. We recently purchased this Skoozly kit.
When my toddler was two, we mostly stuck to color sorting, scooping, turn taking games, and counting activities. As she grew older, I added patterns and graphing activities as well. Here are a variety of activities you can do with your toddler using these bears, including some free printables. These bears truly are a wonderful, open-ended toy with endless possibilities!
1. Sensory Activities
Combine rainbow bears with sensory bins and other experiences. We regularly add our bears to my tot's favored sensory bins– beans and foam shapes. She loves beans and foam shape fillers and can play with various setups for a while.
Some other items I like to add include various scoopers, color sorting cups, and (surprisingly) a ruler. She likes to put the ruler along the top of the bin like a bridge and carefully places the bears on the bridge.
Additionally, I like this cool activity from Preschool Inspirations using bears and hair gel to create sensory bottles.
The Empowered Educator also had a fun sensory bin idea. I don't know why, but kids love getting messy. This one may be better suited for outside or bathtub play!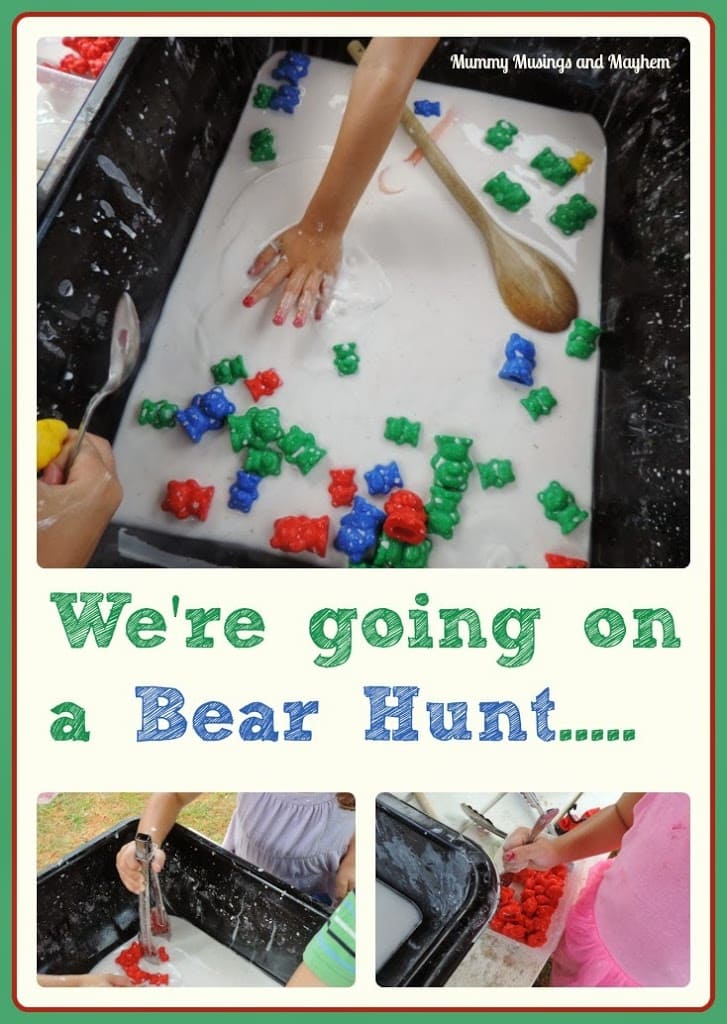 2. Scooping Activities
Whether the bears are in a sensory bin or simply scattered on the floor, scooping bears marks a wonderful fine motor activity. Our kit came with scooping tongs, and my daughter is learning how to use this tool to collect her bears and drop them in various containers. We've used a variety of scooping tools and tongs to strengthen coordination and pre-writing skills. I really like this set by Learning Resources (available here on Amazon) as it includes a nice variety or tools.
3. Roll/Spin and Cover Games
Our kit also came with a large dice that has different color bears on each side. My two-year-old loves rolling the dice, calling out the color, and picking up the correct bear. We usually take turns rolling to help her practice turn taking and sharing.
Another, more independent, game using the dice is to have kids do a "roll to cover" activity. I created a printable rainbow activity for these bears. Sometimes my tot likes to just place the bears on their corresponding colors, other times she rolls her dice and places whichever color comes up.
Click here to download your free Make a Rainbow Activity.
Another spin on this activity is color matching. Check out this free printable color matching game from Life Over C's.
4. Bingo & Board Games
I don't know why toddlers love Bing so much, but I like that Bingo takes no skill and teaches turn taking as well as winning/losing gracefully. I sell printable Bingo Cards in my Etsy shop (very cheap)! If you're interested, click here to view my Rainbow Bear Bingo Cards. Simple purchase the cards, and Etsy will instantly allow you to download the PDF file. All purchases help support my site, so I can offer my printable learning activities for free or at low-cost.
Additionally, I found this printable board game on Pinterest. Although we haven't had a chance to use this yet, it's on my to do list! I love finding activities that we can play as a family as well as free printables.
5. Color Identification
These bears have helped take my child to the next level with color identification. Prior to these, she didn't have much of an attention span for sorting, but now she loves dropping the bears into different cups (for a little while at least). Plus, her speech has improved over the past few days as she tells me which bears go in which cups.
On days that my daughter has a lot of energy, I put the bears in a different room or down the hall so she has to run/walk back and forth as she sorts.
6. Size Sorting
Although our kit did not come with various size bears, some kits do. Here are two printable activities to practice identifying and sorting by size.
7. Counting, Counting, Counting
When my toddler started learning to recite numbers 1-10, I'm started working to teach her that those numbers mean quantities, so ten bears is a lot and one bear is a little. Also, we are working to recognize and understand numerical symbols. So "1" SAYS one, and one bear IS one.
My little one loves the song Wheels on the Bus, so this printable activity is an instant hit.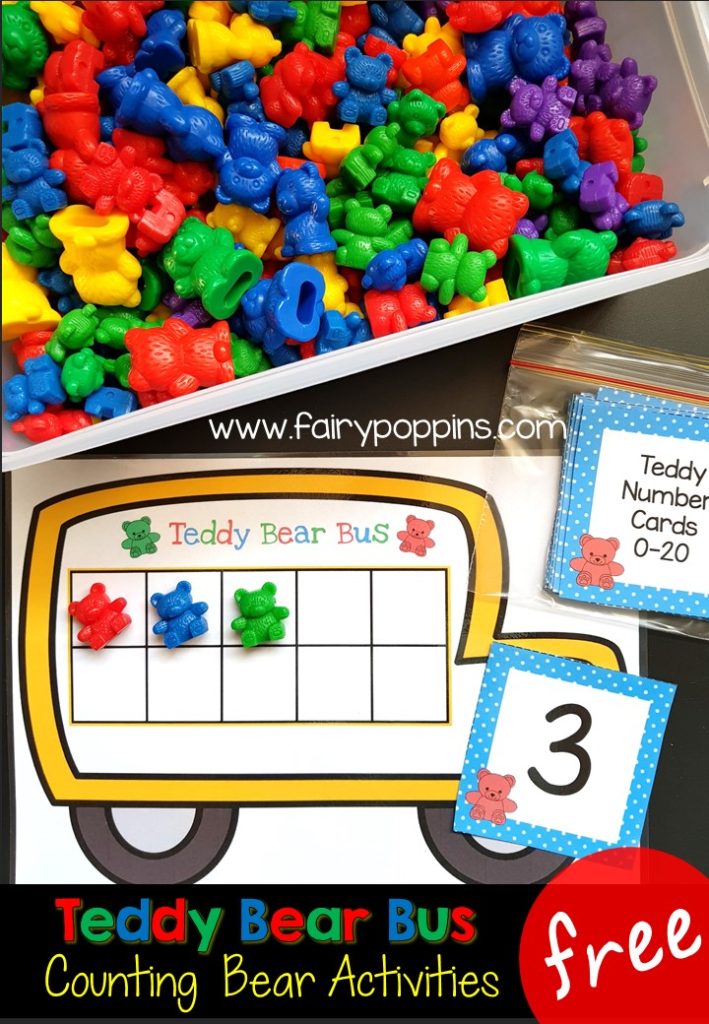 For older toddlers, this printable activity by Fun Learning for Kids looks awesome as it combines colors and counting in a simple, easy to understand design.
8. Make Geometric Shapes, Letters, and Numbers
Challenge kids to make something with of their bears. For young toddlers, draw a wavy line and ask them to line the bears up along the line. Challenge older kids to create shapes, numbers, letters, or even mandalas with their bears.
Providing a flashcard or template for kids to follow is a great way to assist kids who are just learning shapes, letters, and numbers. Here's a free printable shapes template for counting bears that I designed for my toddler.
9. Pattern Completion Activities
Around ages 3+, my tot started to recognize patterns, so I developed a few pattern completion strips for our bears. I designed three pages including a page with ABAB patterns, ABBABB patterns, and ABC patterns. The third, ABC pattern strips, also include reinforcement for learning about color mixing. For instance, I have one pattern with primary and secondary colors as well as patterns that include the two primary colors and the secondary color they create when mixed together. It's a subtle way to reinforce color mixing.
Click here to download your free printable!
10. Building and Stacking
With flat bases, counting bears are great additions to many building and stacking projects. Make bridges for them out of blocks or popsicle sticks. Challenge kids to build a house, school, picnic, playground, whatever for the bears out of legos. We even added our bears to our peg board activity!
Does your family love these rainbow counting bears as much as I do? Share your favorite activities and printable below. And, follow my Pinterest board devoted to Rainbow Counting Bears. I'm always adding new activities and ideas just for these colorful learning bears.